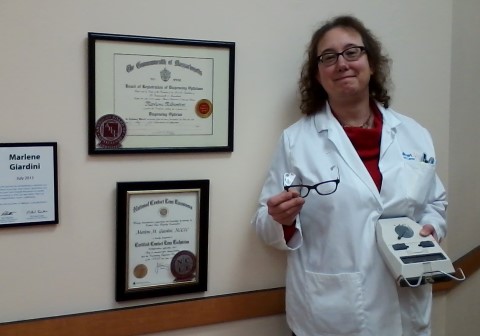 My name is Marlene Giardini and I have been a licensed optician since 1986. In my many years of practicing, I have coached many aspiring opticians, tutoring both at my home and on the job. Making up practice tests has been one of my tools for teaching. Now I am offering them up for you.
I took my American Board Competency Exam after three years of apprenticeship and only one outside night course. My experience up to that time had been all hands-on: selling, measuring, fitting, and lab work. I apprenticed in three different types of establishments, jumping every year to get a different form of experience. I worked on the selling floor of a "one hour service" discount optical chain (which got me into this business!) a small private optometrist office, and the lab of another large franchise optical chain. After my three years was up, I knew my practical optics hands down.
There are other things, however: optical theory; anatomy and physiology; optical pathology, that you just can't learn on the job. I bought a book (chances are, you did too,) but as anyone who has ever tried to teach themselves some technical science out of a book, it was hard going. The text seemed dry as dust and didn't seem to relate to the actual work I was doing, either with patients or in the lab. If I had tried to take my boards with only that behind me, my results might not have been so good. Thankfully, there was a local junior college in my area that had an opticianry major and offered a six week optical exam prep course. Those six weeks made all the difference.
In the last 28 years, there have been a lot of changes in my area. The local junior colleges no longer offer a certification in opticianry, and the only institution anywhere near me that trains opticians is a large college in a major city, overly priced, and far away from the rest of my state. Most optical trainees have no other option than apprenticeship. But where can they apprentice themselves? About the only places that routinely still take on apprentices are the large optical chains, and having come through that way myself, I can tell you from personal experience that these places only train you in what THEY need you to know. The rest is up to you. So most people buy books, borrow each others notes, and hope for the best. A few pool their money and purchase expensive study guides and resell them later.
The upshot of all this is that, in the past five to ten years or so, I have noticed, and heard of, more and more people having to take the NOCE and CLRE multiple times before passing. And you only need a C to do that! Apprenticeships which used to take only three years now take five. Many people at the company I work for who have been stringing that five years out to six, seven, or more simply by continuing to take the national boards every six months, pass or fail.
Now, I don't know if the ABO's NOCE is now more difficult than it was over 25 years ago, or if the level of teaching or studying has declined. All I know is that when I took the test nobody failed. Nobody. And on the off year that somebody did fail, the rest of us heard of it and shook our collective heads over the fact that somebody hadn't passed the ABO (how shocking…) But that doesn't seem to be the case anymore. A lot of stores are looking for opticians now and can't get them. Some opticians are racking up the overtime putting in extra hours in other stores to cover for missing opticians, and many opticians are doing the work of three because there just isn't coverage.
As a license, some of that isn't so bad. A dearth of opticians can be good for wages, and considering that there is a cycle of boom and bust in this business anyway, many of us "old timers" can take pride in the fact that our expertise is needed and wanted. But it isn't good for the optical business as a whole. Many establishments have so few opticians, or even apprentices, that the bulk of customer service is done by non-apprenticed workers. And that makes the quality of service decline.
A decline of quality service hurts us all. It leads to lowered expectations on the part of the consumer and the general idea that eye wear is just some fashion commodity that can be purchased anywhere from anyone (look at how many buy glasses on line!) Lowered expectations and a limited supply of opticians could lead to states doing away with licensure. Localities where our knowledge and experience are not valued could devolve into areas where the average patient is waited on by an underpaid "clerk" who sells them the highest priced product they can get away with to get their commission, and then hands the finished product to the customer without proper dispensing.
That's not what I want to see. That's not what you want to see either if you are serious about taking your optical boards. You want a career, not just a job, and you most probably have been working in this field long enough to know that THIS is the career you want. I want to help you make that a reality.
I got the idea of marketing practice tests a few years back when I took the CLRE. I didn't have to take that test back in 1986 because my state didn't require it. At the time I didn't have much to do with contact lenses. The doctors were responsible for contact lens fitting. I was primarily a lab and sales optician. Then times changed. Most of the stores went to centralized labs instead of "in house" work, and my state began to require new license applicants to have be NCLE as well as ABO certified.
So I studied contact lens fitting and took the test. This time, however, there was no friendly neighborhood community college with an array of night courses at my disposal. I had to rely on whatever material I could find to study from, and I was never truly sure if I was prepared enough. I looked backward with nostalgia at the practice test our ABO teacher set for us all those years ago and I looked for somebody who might have a contact lens practice test I could borrow or buy. Nobody had one. At the time I would have paid quite a bit of money for a comprehensive 300 question or so practice test to study with, but couldn't find anyone that could provide it.
So I made up my own.
When I took my CLRE it was at the same time as one of my long term friends in the business and we looked to each other as "study buddies." Every bit of information we were able to find I made up questions from that we studied, and we both passed with comfortable margins. I thought after we had both got our certification that I might sell my practice test. After all, I would have paid for one when I was studying. why not give someone else the opportunity?
But the idea came to me that practice was the key. Just reading over somebody's sample test wasn't really quite good enough. There are thousands of questions that could conceivably be on the National Boards (there were plenty of questions I encountered taking the boards myself that I had not anticipated…) and there is no telling which of them will be on any given years test. The true answer was to give multiple practice tests that would give the test taker a real idea of what sitting for the real test would be like. They would be able to practice over and over again with different questions to allow them, not only to fully prepare for the actual exam boards, but to feel prepared, because that is also part of the problem.
These tests are as close as possible to what I would have wanted when I was frantically studying for my boards. And the price at which I am offering them is what I would have been willing to pay. My little 300 question contact lens test has grown into a reservoir of more that 5.000 general opticianry and contact lens questions. Every type of question I can conceive of possibly being on either of the National Boards has an originally composed comparable question for you to test yourself with, and I am adding more and more all the time.
This site is for YOU, to help you become the professional you aspire to be.